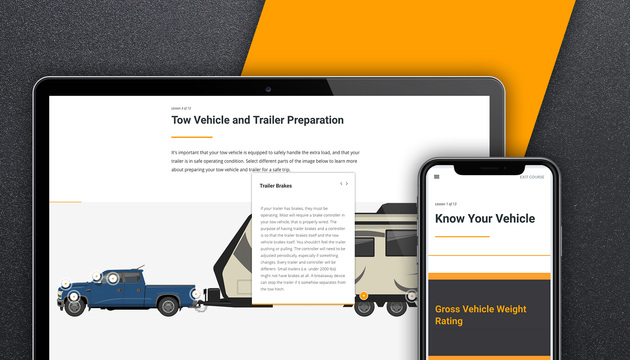 Recreational Trailer Safety Training Course
Description
Feel Confident Towing Your Recreational Trailer
Before you hit the road, learn advanced trailer safety from the pros — quickly and affordably
KEEP IT SAFE, KEEP IT FUN
Safety Can't Wait — And Neither Should You
Do you need first-time or refresher training on trailer towing safety?
Chances are, your basic manual and a few YouTube videos aren't enough. Most drivers can't pass our course quizzes based on what they've learned elsewhere — and that puts them at risk.
Now, you can master and test your knowledge of trailer towing safety in 30 minutes or less. That means you can get on the road quickly but with confidence!
You'll love that this innovative online course is:
Interactive
Engaging
Visual
User-friendly
Clear
Memorable
Self-paced
Time-effective
On-demand
Mobile-friendly
Take the training once and revisit it anytime to enjoy operating your recreational trailer safely.
Course Outline
In this course, you'll learn about:
Trailer and vehicle weights
Preparation
Connection components
Safe driving
Regulations