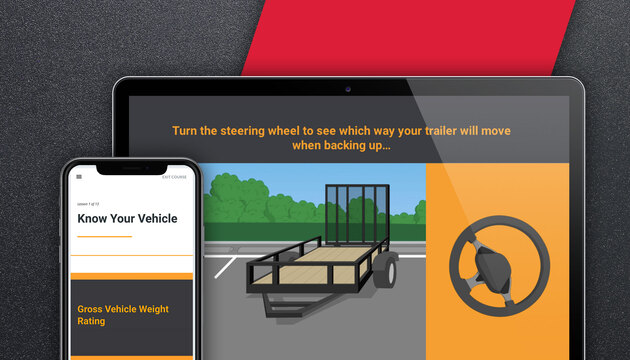 Commercial Trailer Safety Training Course
Description
Reduce Commercial Trailer Towing Risks & Save Costs
Now, get the only interactive online trailer safety training for employees
Do your commercial drivers need first-time or refresher training on trailer towing safety?
Now, you can affordably train every employee who operates a trailer, in just 30 minutes — any time they need it. Because the best safety training is just-in-time.
Online Training that Stays Top-of-Mind
The smart-alternative to in-person training, this online course is designed by adult education and occupational safety experts.
Your drivers will love that it is:
Interactive
Engaging
Visual
User-friendly
Clear
Memorable
Self-paced
Time-effective
On-demand
Mobile-friendly
Trainees work through trailer safety concepts module-by-module and test their knowledge before they can continue. The final quiz gives an accurate assessment of whether they've mastered the key trailer safety concepts.
Manage Your Employees' Training & Credential Easily
With our easy-to-use management portal, you can assign the course to employees and track their progress. Identify their strengths and weaknesses in trailer safety and flag opportunities for support. This program lets you confidently manage employee training end-to-end.
Course Outline
In this course, commercial drivers will learn and be tested on:
Trailer and vehicle weights
Trailer preparation
Connection components
Safe trailer driving
Trailer towing regulations
Students must pass the assessment for each module and a final quiz to earn certification in commercial trailer safety.