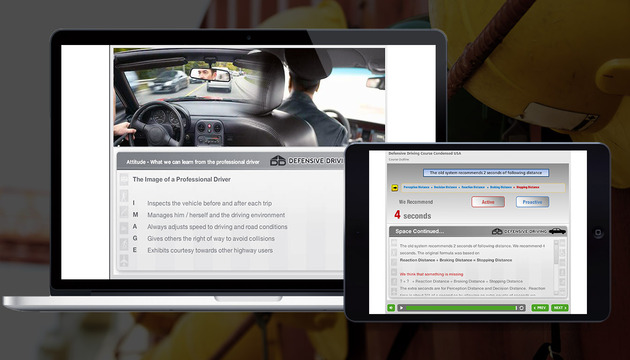 Defensive Driving Condensed Online Training (USA version)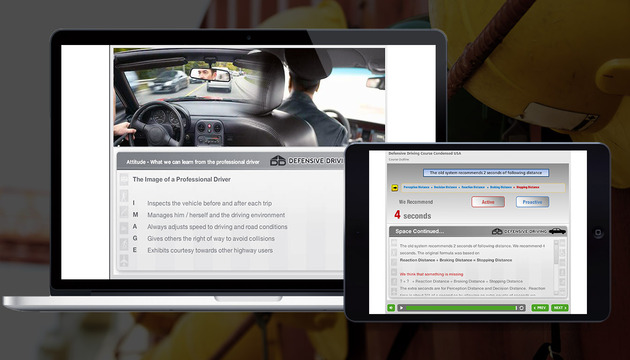 Description
This online Defensive Driving course explores the six components of the SAFER System of Defensive Driving: Space, Attitude, Foresight, Eyesight, and Responsibility.
Topics Include:
Driver competency model
SAFER system of defensive driving
Most common collisions

Following too close
Backing
Intersections

Wildlife collisions
Fatigue
Advanced Driving

Ditch entry recovery
Vision
Emergency braking
Skid control
Collision avoidance

Complacency
ONLINE DEFENSIVE DRIVING COURSE – US VERSION DURATION: Approximately 3 hours
DEFENSIVE DRIVING ONLINE COURSE ASSESSMENT: Testing conducted throughout this online Defensive Driving course is designed to reinforce the information presented. A mark of 80% must be achieved in order to receive a certificate of completion. Participants are able to repeat the course twice if the pass mark is not achieved.
Course Outline
Welcome
Course Navigation
Welcome
Statistics Quiz
Why Wear Your Seatbelt?
Key Definitions
What is Acceptable to You?
FSI Core Philosophy
Driver Competency Model
The Challenge
Safer System of Defensive Driving
Space - Introduction
Attitude
Attitude
Foresight... The Ability to Anticipate
Eyesight - Introduction
Responsibility
The Most Common Collisions
Driver Fatigue
Collision Avoidance
Complacency - Definitino
Conclusion
Course Quiz
End of Course